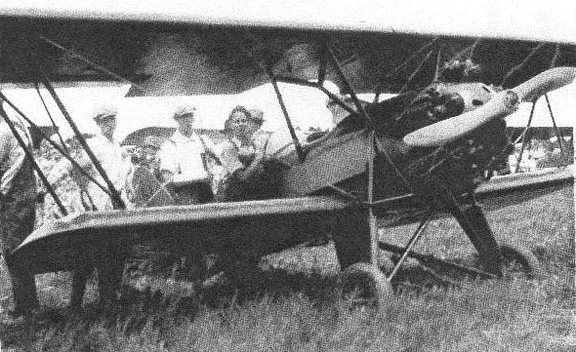 NEW OLD ONE! Jeff King sends this neat little biplane with its link named "Murry." No help there, but could it related to that Van Camp-Murray Sport mentioned by JMJ in the Murray-Womack entry, as well as its own entry? That was described as having a rotary, but this one looks Kinner-ish.

---


Andrew Seybel #1: "This has to be a development ship. A late model F6F-3 with the -5 antenna and -5N armament (cannon substituted for inboard .50). However, gun fairings suggest an early -3 and red insigne bars only add to the confusion. I read that some -3Ns were modified in the field to carry the 20mm, but that doesn't explain the more vertical radio mast or the gun fairings."


• The test models of the Hellcat were Grumman-owned and were all on early -3 airframes. Also keep in mind that the development of the -4 and -5 was quick and of priority. The -5 was in service in 1943; the prototypes were in 1942 paint-red borders. (John McGorray 6/26/06)
---


Andrew Seybel #2: "Looks like an early -3, but no guns. Possibly XF6F-4 before the cannon installation?"
---


FOUND! While proofing our 'Ra' page, the description for Rinehart-Whalen matches Eric Blocher's oddball photos.
---


Here's a reverse-stagger brain-scratcher from Leo Faciane! Looks WW1-ish with US troops, might be foreign.
---


John Diele contributes this mystery ship spotted on a late-'30s used car lot.
---


From out of the mists of 1913 comes this critter with no name, no data, no location, no nothing. Click it for a triple-pic, which will probably be of no help, either.
---


Pic identified as a Yackey, but a Yackey what? Doesn't seem to fit anywhere.


• This could be an Laird Swallow or early New Swallow, with young Lloyd Stearman standing in front of it in his dress clothes. Note the double-wide front cockpit, with one of the Swallow's trademarks: the single-piece curved-glass windshield (claimed to be the first such in USA. It bears other characteristic marks of the Swallow family, including the OX-5 and other Jenny holdovers, and the stout-belly appearance of later models.



The cowling does NOT appear like any Swallow pix I recall, but seems to resemble a restored 1927 model at the Kansas Aviation Museum. The double-bay wing was discarded on some later models for a single-bay design, but probably not on all prototypes. This may have been a transitional model between Laird Swallow and New Swallow. Young Stearman (about 20, as I recall) created a greatly revised Swallow, resulting in the "New Swallow." This may have been an early version. (Richard Harris 9/4/04)

---



This one rings a small bell, but we couldn't match it with anything in Aerofiles. Markings on tail too blurry to decipher.


• It looks a lot like the Driggs Dart in Putnam's United States Military Aircraft Since 1909. Your picture under Driggs shows a biplane, though. It seems to be an intermediate between the Driggs-Johnson DJ-1 and the Driggs Dart 1. (Roger Finnerty 10/3/07)
---


Here comes Blocher again with his #3. One of two from 1927, it looks familiar, but then they all do after a while. Has a bit of Taylor Chummy look to it.
• This appears to be a hybrid or interim model between the Taylor Brothers C-2 Chummy (90-100 hp Kinner K-5 radial, parallel wing struts, tripod landing gear)—depicted at aerofiles.com/taylor-b2.jpg and aerofiles.com/taylor-c2.jpg—and E-2 Cub (very different fuselage, cockpit, windows, and tail)—depicted at aerofiles.com/taylor-e2.jpg. (Richard Harris 9/4/04)
---



Blocher #4 from 1927. No data or location.


• The plane seems to have a Hispano-Suiza engine. I assume that those photos were taken by Eric Blocher's father—he mentioned with earlier mystery photos that his father had not been much beyond Detroit. That would put the aircraft in Michigan. I have on file only one Michigan aircraft with a Hispano engine that is unaccounted for as yet: Ivan E Pownall (Grand Rapids) Model EK [N11385]. It's a long-shot as I have no proof, but a possibility.
To perpetuate this fancy, perhaps some viewer in Grand Rapids will carry the ball further and check out local archives—the Grand Rapids newspaper, library, historical society, etc. Actual date of the photo was unstated, but my guess is mid- to late-'20s. I lean toward late '20s because that ship has a bit of the "Lindbergh look" to it, which was a popular design after the 1927 NY-Paris flight. (John M Jarratt 4/15/04)



• That is my father, Ora G Blocher, by the propeller in the lower of the two photos of #4. I've been playing with the contrast and brightness of the top photo, too, and there is a big "S" on the tail. There is also something written in two lines on the fuselage that I can't make out. The bottom word ends with: "...ments". (Eric Blocher 4/26/04)



• Have just found that Pownall EK was sold 1932 to Edward Bouma Jr, 6549 3rd Ave, Detroit. Does this ring any bells with Eric? (John M Jarratt 5/12/04)
---
<! - - - - - - - - - - - - - - - - - - - - - - - - - - - - - - - - - - - - - - >